Itinerary of a hot air balloon flight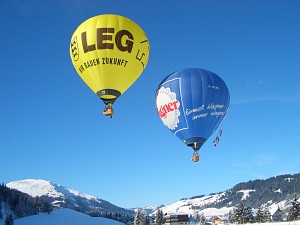 We will agree on a date and time of your balloon flight. It depends on the particular weather conditions whether we can take off or not. We kindly ask you to call our phone number the day before your flight to check whether we can do the flight or not. We will inform you about the expected weather conditions and agree a new date and time in case we can't cope with the weather.
If your flight is confirmed, we meet at the agreed time and location. Preparing the balloon is done together with all passengers, the pilot and the ground team. You will learn a bit about the background of flying a hot air balloon. This will take about 45 minutes.
The duration of the flight is expected of 1 .. 2 hours depending on the wind and ground conditions. The ground team car will always follow and be in contact with the pilot by the use of an aviation mobile radio. After landing we will dismantle the balloon and store it on the car trailer of the ground team. This is done together with the passengers again.
It is a long tradition to have a aprés-balloon ceremony with all first-time passengers. The pilot will provide you with a flight certificate and all together will have a glass of champaign. The ground team will drive us back to the start location. The entire event will require at least 5 hours and will be an unforgettable experience to all of you.