What is Balloon Night Glow?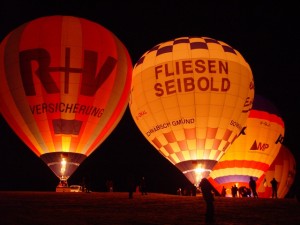 Balloon Night Glow is a traditional event during a Hot Air Balloon Fiesta. It is a very spectacular happening to the visitors of the event.
The hot air balloons will be heated up just that they stand upright without taking off. The flames of the burners light the balloon envelopes in the darkness of the surroundings creating the wonderful effect that the balloons seem to glow.
We recommend to all visitors of our fiesta not to miss this moment as you will experience a very memorable event.